Espresso Bar
Our signature offering! A full-service Espresso Bar at your event location. Creating an experience your guests will remember.
Service Includes:
Flavored Lattés
Mocha
White Mocha
Caramel Mocha
Fruit Smoothie
Chai Tea
Hot Cocoa
Flavored Steamers
Assorted Hot Teas
All Espresso Bars come with 2% milk, almond milk and our proprietary espresso blend.
*Serves up to 50/hour.
Pricing:
$400 for the first two hours
$150 each additional hour
*Plus gratuity
Upgrades:
Additional Milk Alternatives – $35
Green Tea Matcha – $35
Italian Sodas – $35
Cold Brew – $50
Frappé – $50
Energy Drinks – $50
Green Smoothie – $75
Cider & Eggnog (seasonal) – $50
Cider – $35

Who doesn't love a handcrafted beverage, made just how they want it?
Whether you're in the mood for a simple shot of espresso, an elaborate latte, a hot cup of tea, or a steamer, our Perkologist®s have the ability to turn our mobile cafés into an all-inclusive coffee shop experience!
We carry all of the traditional offerings, a few pleasant surprises, and everything you need to make your team appreciation event, corporate meeting, or personal celebration something truly special. With all the premium espresso, tea, and specialty beverages just an order away, your guests' cravings will be satisfied, regardless of whether or not they drink caffeine.
The full café experience, right at your event
We use our very own Perkology blend of high-quality, locally-roasted beans espresso beans in all of our espresso drinks, roasted in small batches to ensure the richest, fullest flavor possible. (Already love our brews? You can order special Pacific Perks blends for at work or at home right here!)
The Espresso Bar experience includes espresso drinks, flavored lattes and mochas, Chai and other assorted teas, flavored steamers, hot chocolate, and even upgrades like smoothies or Italian sodas! Have guests with special preferences or dietary considerations? No problem, we have one milk alternative on hand or you can simply upgrade your cafe experience to include additional milk alternatives.
What better way to kick-off your event than with a warm drink?
No matter if you're hosting an annual planning meeting, a grand opening event, or a wedding brunch, the Espresso Bar, your mobile café is the perfect way to provide your guests with something personalized, delicious, and just the right way to complement the spirit of your gathering.
Let our Perkologist®s take your event to the next level
Looking for the right way to make your attendees feel special? The Espresso Bar, your mobile café is the perfect way to achieve your goal. Our team of Perkologist®s is not only trained to make delicious café drinks, but the service they provide is second-to-none.
Consider the Espresso Bar for events like:
Family celebrations
Engagement parties
Wedding receptions
Wedding brunch
Annual planning meeting
Grand opening and ribbon cutting ceremonies
Church-sponsored events
Corporate team building
Staff and customer appreciation parties
Graduation parties
Trade shows
Sporting events, like golf tournaments and end of season team parties
Neighborhood block parties
And many, many more!
Let Pacific Perks® help you Promote, Reward and Celebrate the people most important to your life or business
Promote
Looking for a unique and effective customer appreciation idea? Pacific Perks® would love to help you execute this thank you in a way everyone will be sure to love.
Pacific Perks® has the entire process down, and you won't need to worry about a thing. Refreshments, supplies, and setup — that's all on us! All you need to do is focus on relationship building with your attendees. We'll take care of the experience!
Reward
Has your team exceeded a sales or safety goal, or have they just worked really hard this month and deserve some recognition? The Espresso Bar is the perfect choice for office parties, employee appreciation events, or as a way to congratulate everyone on their accomplishments.
Celebrate
Celebrate open houses, office relocations, ribbon cuttings, community events, celebrations of life events, retirement parties, weddings, graduation parties, and more. No matter what you're celebrating or who you're recognizing, espresso is the perfect complement to any occasion.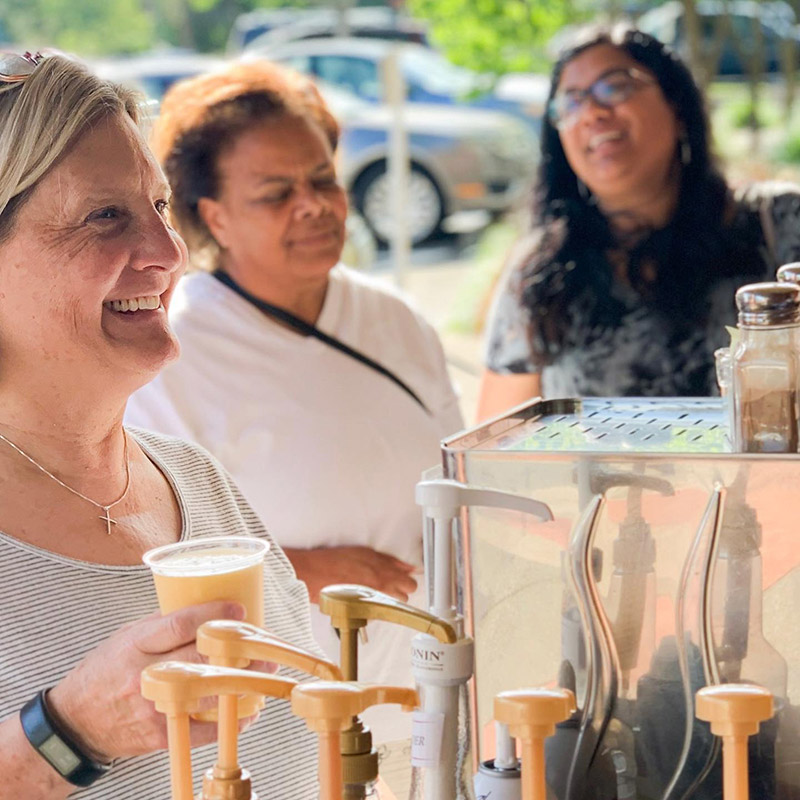 With just a four-foot cart containing an endless well of magic, our team requires very little space to create our delicious beverages.
Just leave everything to us — we'll cover setup, supplies, and cleanup. We'll even help you organize the best way to manage guest traffic so everyone can be served efficiently and your event stays on-track. It is a whole new catering experience!
Mobile cafés suited perfectly to your taste
Concerned that hot beverages don't match the hot weather? We can make them iced! Or consider upgrades like smoothies or Italian sodas. Our creative approach will ensure everyone is satisfied.
Looking for a light snack to complement these delicious drinks? We've got you covered! Just ask us about specialized pricing to add-on scones, muffins, and cookies. They're the perfect complement to our tea, coffee, and drink selections.
Hosting a large event? No problem! We can serve up to 50 customers per hour on average, and using a multi-cart strategy, can serve up to 1,000 guests!
Make your memories more memorable, make your days more delicious, with Pacific Perks®!