Ice Cream Sundae Bar
You Scream, I Scream, We All Scream for Ice Cream!
Service Includes:
Premium Vanilla Ice Cream
Gourmet Chocolate Sauce (v)
Gourmet Caramel Sauce
Crushed Oreo Cookies
Crushed Heath Bar
M&M's
Whipped Cream
Sprinkles
*Serves up to 75/hour
Pricing:
$400 for the first two hours
$150 each additional hour
*Plus gratuity
Upgrades:
Non-dairy Ice Cream – $35
Italian Sodas – $35
Root Beer Floats – $35
Chocolate Ice Cream – $50
Cold Brew Affogato – $50
Imagine a shot of cold brew poured over a delicious scoop of vanilla ice cream. Top it off with some chocolate sauce & oreos if your heart desires. It is so good!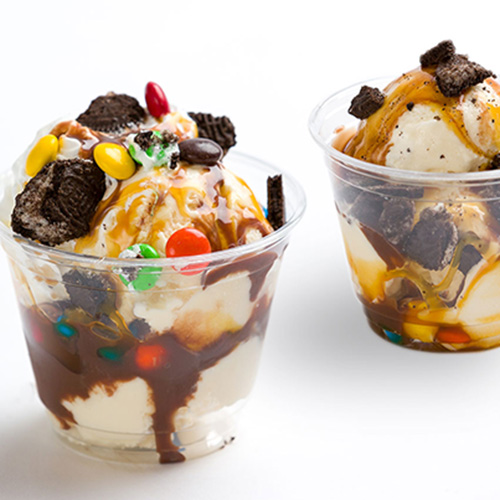 No matter what your age, who doesn't love ice cream?
Imagine, just out of a show of appreciation, having a sundae made just the way you like it, just because. Doesn't that sound fantastic? It is! And with Pacific Perks®, you can have it as often as you'd like.
Our mobile, made-to-order Ice Cream Sundae Bar is a fun, easy and oh so delicious way to show your loved ones, colleagues, or community members that you're a kid at heart who knows how to speak to their kid at heart.
The best part? We go to you to do it. We can bring our mobile Ice Cream Sundae Bar to you, set it up inside, outside, or anywhere you need it to be!  How is that for a stress-free experience?
Your guests will be dazzled, because we make their ice cream treats made-to-order, right in front of their eyes!
How does the Sundae Bar Experience work?
Guests simply need to order at the cart from our Perkologist®, and they'll get it exactly the way they want it. They get to choose whatever — and as many — toppings as they want. Heck, they can order multiple sundaes if they so wish!
We don't count how many people there are, and we don't count how many sundaes they order. The only thing we're keeping an eye on is the joy on everyone's faces. After all, it's all about the experience.
When we make a sundae, we start with premium vanilla ice cream, and provide the option of adding multiple yummy toppings so guests can create the sundae of their dreams.
Toppings include:
Gourmet Dark Chocolate (vegan friendly)
Gourmet Caramel Sauce
Oreos
Heath Bar
M&M's
Whipped Cream
Sprinkles
Maybe you're just in the mood for a small scoop and a little dark chocolate? That's great! Maybe you're in the mood for everything? That's great, too! Order the "Kitchen Sink," which includes ALL the toppings piled as high as possible.
Want to ensure you appeal to everyone? We have non-dairy, vegan, and chocolate ice cream upgrades available. We love to customize for you and will make your event just the way you like it!
Let Pacific Perks® help you Promote, Reward and Celebrate the people most important to your life or business
Promote
Looking for a unique and effective customer appreciation idea? Pacific Perks would love to help you execute this thank you in a way everyone will be sure to love.
No more lugging in tubs or coolers of ice cream yourself! You won't need to worry about a thing. Refreshments, supplies like spoons and napkins — that's all on us! All you need to do is focus on relationship building with your attendees. We'll take care of the experience!
Reward
Has your team exceeded a sales or safety goal, or have they just worked really hard this month and deserve some recognition? The Ice Cream Sundae Bar is the perfect choice for office parties, employee appreciation events, or as a way to congratulate everyone on their accomplishments.
Celebrate
Celebrate open houses, office relocations, ribbon cuttings, community events, celebrations of life events, retirement parties, weddings, graduation parties, and more. No matter what you're celebrating or who you're recognizing, ice cream is the perfect complement to any occasion.
Our Perkologist®s will take your event to the next level
We are compact and self-contained. We only need a few details and a point of contact for the day of the event. We fit through any standard-size doorway and can set up inside your office,  break room, conference room, foyer, or warehouse. We can serve your guests outdoors, too!
Ice cream at any time!
That's right. The Ice Cream Sundae Bar is available any time of the day.
On a production crew and need to PERK the cast at midnight? No problem! Ice cream for an all-night graduation party? We have you covered!
Hosting an event that needs a special something?
Here are some unique event ideas for the Ice Cream Sundae Bar:
Golf Tournament Sponsorship – Sponsor our Ice Cream Bar at the registration table, get featured space at a hole, or as the golfers are coming off the course.
Community Walk or Run – Everyone will be lining up at your booth for a refreshing sundae after they've completed their leg!
Blow Out Sale – Having an event or special sale? Offer the Ice Cream Sundae Bar as an extra perk to keep shoppers engaged! Customers will feel even better about their purchase and tend to stick around a little longer.
Employee/Client Appreciation – Teams love a surprise, and sundaes are a great way to say thank you for their hard work and dedication.
Company Picnics – We can serve outside too!
Marketing Campaigns – How about an Ice Cream Bar for every client that filled out a survey or reached a certain level of business with you?
Open House – Having an event at the office? An Ice Cream Bar is a nice perk for the guests to enjoy.
Make your memories more memorable, make your days more delicious, with Pacific Perks®!